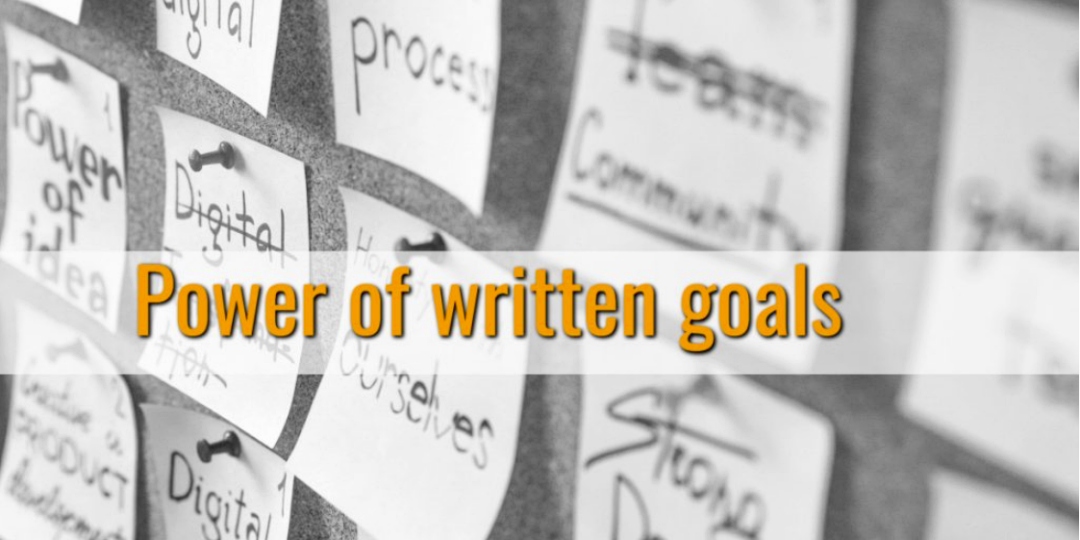 The Power of Written Goals
Every one of us has a Goal or Aim in Life. Life without an aim or a goal is like a ship without a rudder which is tossed mercilessly on the high-seas. So the first thing is to choose an aim. If you are in a quandary, undecided as to what to do in life, you can do this exercise.
Get a pen and paper and answer the following questions. Who am I? Why am I here? What do I want from life? and What do I want from life today ? Do it every day for a minimum of 21 days. If you do it religiously, you will see a pattern, very soon you will be able to connect the dots and the picture of your future will be clear to you.
Once you have the picture clear write it down in a single sentence. Magic begins to happen when you write your aim or goal. It has been seen that 80% of the people who write their aims tend to achieve them. When you write your aim your psycho-neuro-muscular mechanism gets activated. Your psyche, your intellect, your nerves and neurons and your muscles get together to help you achieve your aim. And the Universe conspires too. A lot of unrelated circumstances and coincidences appear which help you get closer to your aim.
The way to write your aim or goal is this. Suppose you want to become a Doctor. Fine- tune it. What type of Doctor you want to become? A Cardiologist, Physician, Surgeon or a Paediatrician ? So write : My aim in life is to be a Surgeon or better by 2020 or earlier. When you write "better or earlier" you leave the leeway for the Universe to act for what is the best for you and everybody else. You might start with wanting to become a Surgeon but may end-up being a Neuro-Surgeon which might be the best for all concerned, including you.
Write it at the back of a visiting card. Read it whenever you have time or you want to be focussed. Imagine as if it has already happened. Be thankful in advance for it and very soon you will find that it has actually come true. It is not magic but it can be magical.
The writer is a veteran Air Force Pilot, a motivational speaker and the Author of "Be Your Own Pilot."